"I've been a long time user of an iPhone and got hundreds of songs, music video on iTunes. Now I plan to switch to Android phone, is it possible to get my iTunes music and playlist onto Android phone?" — Asked by Charles
With the latest release of the amazing Samsung Galaxy S8/S8 Plus/Galaxy S7/Galaxy S7 edge/Note 8, HTC One M10/M9, Huawei Mate 10/Mate 9, Google Pixel 2 and LG G5, many users may be considering making the switch from iPhone to Android. Are you ready to switch to an Android smartphone but worried about losing all of that iTunes music you spent time and money on?
It is not difficult to find that iTunes music runs in a closed system to protect the data in its library and the iOS devices, that is, the music you buy via iTunes is DRM protected, iTunes music can be synced with iPhone, iPad and iPod easily and limit the quantity of available devices.
How to get your iTunes music to play on Android phone and tablet freely?
To sync offline tracks from iTunes Music's streaming library to your Android phone or tablet is a little challenging, but not impossible. There are a number of apps and services that can help you complete this task. In this article, we've singled out 4 methods to help the users who want to play iTunes Music songs on Android phone and tablet, and we'll take you through them step by step.
Solution 1: Sync iTunes Media Files to Android in 1-Click by TunesGo iTunes Transfer
TunesGo iTunes Transfer, the outstanding music transfer program between iTunes and Android phones, make it easier to synchronize iTunes music with Android. The software will give you the chance to transfer songs, playlists, movies, iTunes U, Podcasts, and more from iTunes to Android in a single click. Plus, it is used for exporting/importing, transferring files among Android/iOS devices, iTunes and PC, such as photos, videos, music, apps and so forth.
All iOS & Android Devices Supported:
Samsung Galaxy/ HTC/ LG/ Sony/ Google Nexus/ Motorola/ HUAWEI/ ZTE/Acer/Google Pixel, etc.
iPhone X/iPhone 8 Plus/iPhone 8/iPhone 7 Plus/iPhone 7/iPhone SE/iPhone 6S Plus/ iPhone 6S/ iPhone 6 Plus/ iPhone 6/ iPad /iPod.
Step 1 Launch the Program to Your Mac or Windows Computer
First of all, please install and launch the TunesGo iTunes Transfer tool on your Mac or Windows computer. Once you connect your Android phone to the computer where the iTunes is installed, you will get the following main page.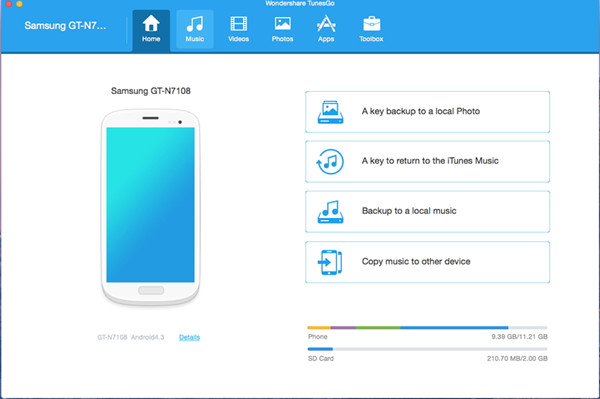 Step 2 Choose the iTunes Transfer Mode
Click Toolbox and then click "TRANSFER iTUNES TO DEVICE".
Click on the Toolbox at the top of the window and find "TRANSFER iTUNES TO DEVICE" option. Now, start the process of syncing iTunes music to Android.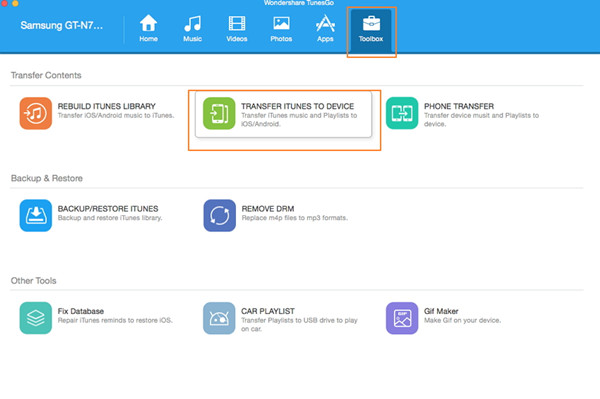 Step 3One Click Transfer iTunes Music to Android Phones
From the pop-up window, you can see that all the transferable data is listed. Here you can opt to choose the whole library, or you can also pick the specific files that you would like to transfer from your iTunes Library to Android phone. After selecting, hit on the "Transfer" button.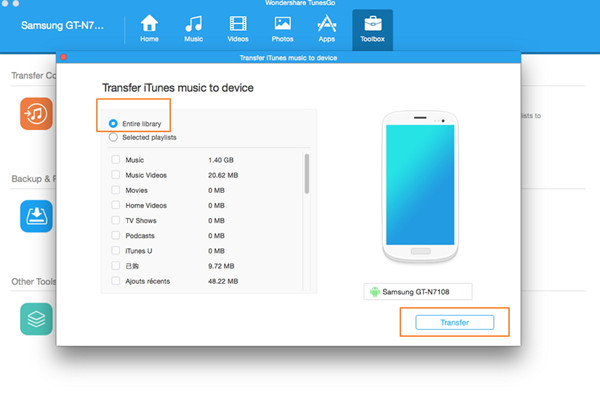 Solution 2: Manually Transfer iTunes Music to Android with USB Cable
The method is the old fashioned way to get iTunes music onto your Android phone. All you need is to connect your Android phone to computer via USB cable.
Step 1 Locate the directory to extract your iTunes Music
For Windwos user, the iTunes music floder (by default) should be in : C:\Users\username\My Music\iTunes\;
For Mac OS X, The actual path of the iTunes folder is "~/Music/iTunes/" (to open it directly in Finder, choose Go > Go to Folder and type in the path, alternatively using the Command+Shift+G keyboard shortcut).
Step 2 Transfer iTunes music from PC to Android phone
Simply connect your Android phone to Mac or Windows computer via your USB cable, then drag and drop the iTunes music files you want to transfer from your PC to Android phone.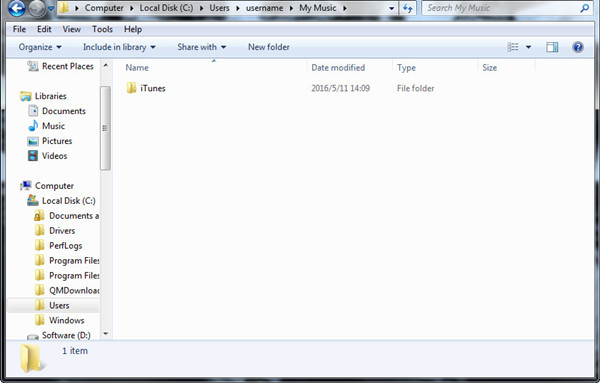 Solution 3: Manually Transfer Music from iTunes to Android Phones
Thanks to the iTunes Library, you can organize your iTunes media folders and save all the files to the iTunes media folder. So once you have a single song copied to the folder then you can copy your iTunes music to Android freely.
Step 1 Copy files to the default iTunes media folder
In iTunes, go to Edit > Reference … > Advanced and select the Copy files to iTunes media folder option. As a result, music, videos, and other media files are automatically stored in the media folders. Therefore, you will get the single files that need to be copied to your Android phone or tablet. The following is the default iTunes media folder location:
Windows 7: C:UsersusernameMy MusiciTunes
Windows 8: C:UsersusernameMy MusiciTunes
Windows XP: C:Documents and SettingsusernameMy DocumentsMy MusiciTunes
Windows Vista: C:UsersusernameMusiciTunes
Mac OS X: /Users/username/Music/iTunes/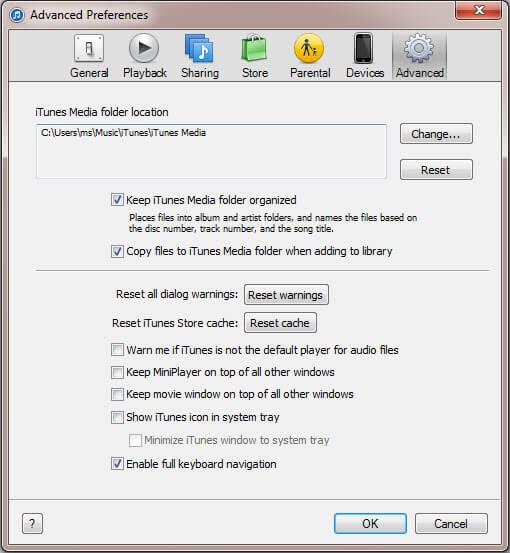 Step 2 Transfer Music from iTunes to Android Phone
Next, you just need to insert your Android device as an external drive to your computer via a USB cable. And open the iTunes media folder on your computer to copy the music files to your Android phones.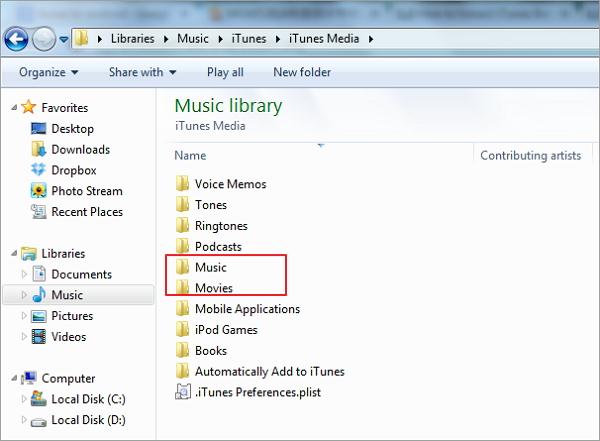 Note: Mac can't detect your Android phone or tablet as the Windows PC does. If you want to transfer iTunes music to Android on Mac, you have to turn to some third-party tool for help,like Solution 1.
Solution 4: Copy Music from iTunes to Android via Google Play Music
Google Play Music is a music streaming service providing seamlessly way to keep your iTunes library synced. Uploading your iTunes music to Google Play Music means that you can access them on your Android phone easily. This method is most widely used.
Step 1. Head to the Google Play store in a web browser and log in with a Google account. Go to Music and then select My Music.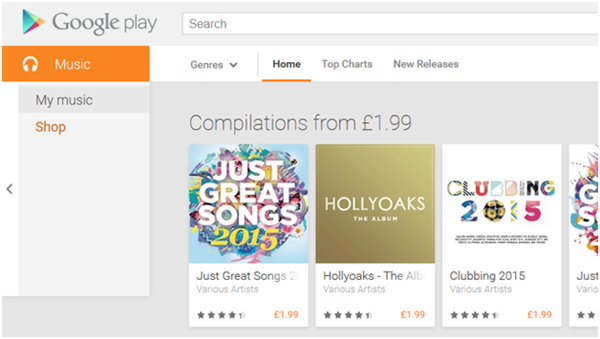 Step 2. Tap on Listen Now tab and select Upload Music towards the bottom. You'll be prompted to Download Music Manager.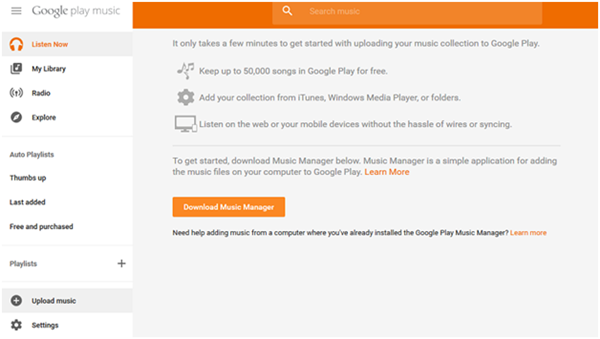 Step 3. From the pop-up window, select "upload songs to Google Play" and click Next.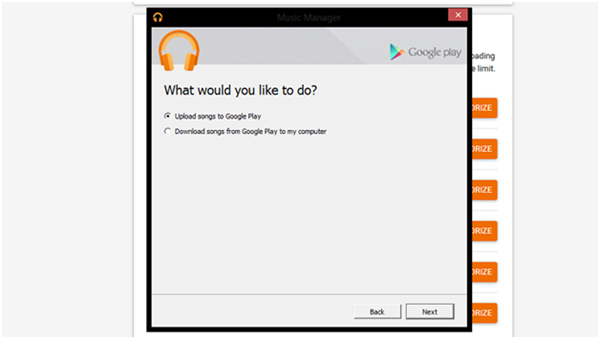 Step 4. Select iTunes and click Next. The Music Manager will automatically find your iTunes Library displaying how many song and playlists are available.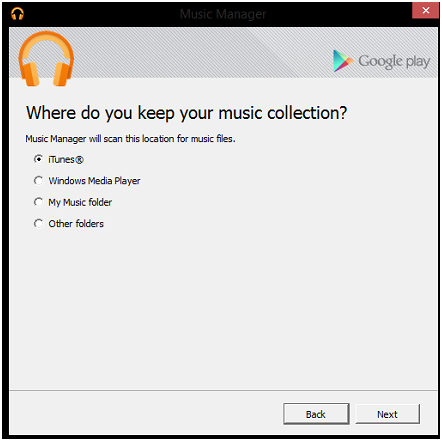 Once done, your Android phone is then to be re-synced with the Google Play Music to transfer the transferred iTunes music.
Transfer iTunes Music to Android