As the popularity of 3D movies nowadays, most of the people would like to go the cinema to enjoy the 3D movie with great visual enjoyment. But do you want to enjoy 3D movies at home? Did it ever occur to you that 3D films can be played on PC/Windows at home with you resting in sofa instead of going out to the cinema? Or play 3D movies at home on different devices? These devices include 3D TV, old 2D TV with 3D glasses, mobile phones (Samsung Galaxy, Google, Huawei, LG, HTC, etc.) with 3D support.
If possible, isn't it a good idea to convert 2D videos to 3D and watch 3D movies with media devices/PC/TV/3D Glasses at home? Congratulations, this article is written down in specialty for assisting you to easily create 3D movies with 2D video files in three steps. With the help of 2D to 3D Video Converter, you can rip 2D movies to 3D MP4, 3D WMV, 3D MKV, 3D AVI, etc. within a few clicks.
How to easily play 3D movies at home?
2D to 3D Video Converter has taken the leading in converting 2D videos to 3D format perfectly. It can easily convert 2D MKV videos even those with resolution of 1080p or 720p to 3D videos with original quality remained, zero quality loss while conversion. In addition, it can convert the videos to play on Gear VR via Samsung Galaxy S8/S7/S6/S5, Galaxy Note 8/5, and others.
Now download the 2D to 3D Video Converter here, and follow the detailed guide below to see how to convert 2D movies to 3D step by step and enjpy your 3D videos at home.
What Are the Advantages of 2D to 3D Video Converter?
-Convert 2D video to 3D video.
-Convert video files to any video format like MP4, WMV, AVI, FLV, MOV, MKV, VOB, etc.
-Create a 3D video with different effects(Anaglyph, Side by Side, Side by Side (half-width), Top and Bottom, Top and Bottom (half-height)).
-Support various popular media devices including iPad, iPhone, Apple TV, Galaxy Tab, etc.
-Preview the video before converting.
-Come with a built-in video editor.
Guide: How to Convert 2D Video to 3D
Step 1Launch the Program on Your Computer and Add Files
After installation, launch the 2D to 3D Video Converter software on your computer. From the main page, go to "2D to 3D" option.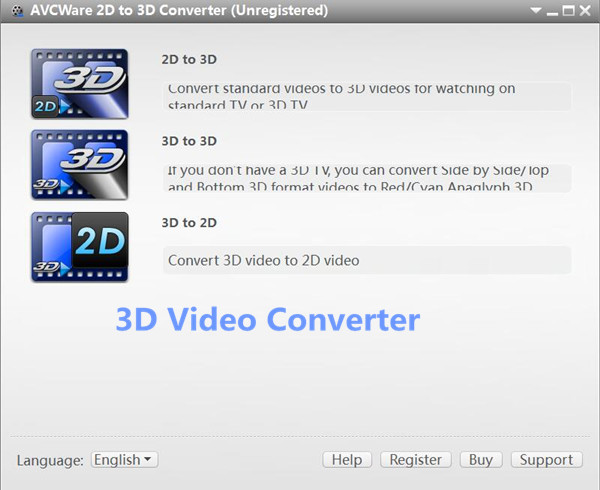 Next, find the lower left corner of the icon, click on it you can import the normal videos you want to convert.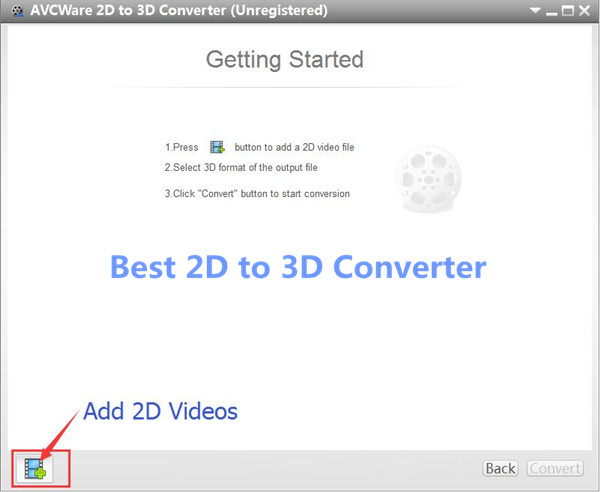 The program supports batch conversion which enables you to convert several 2D videos to 3D files at one time.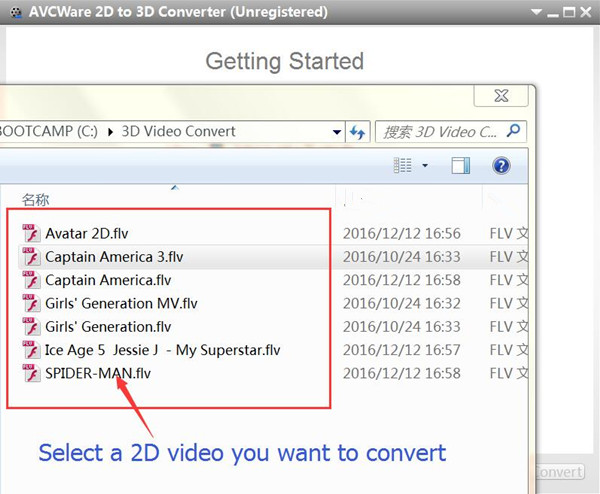 Step 2Select 3D Effects
Now you need to select the output format for your 3D Player. Please click "Anaglyph (Red/Cyan)", "Side by Side", "Side by Side (Half-Width)", "Top and Bottom" or "Top and Bottom (Half-Height)" under the preview area to select an output mode.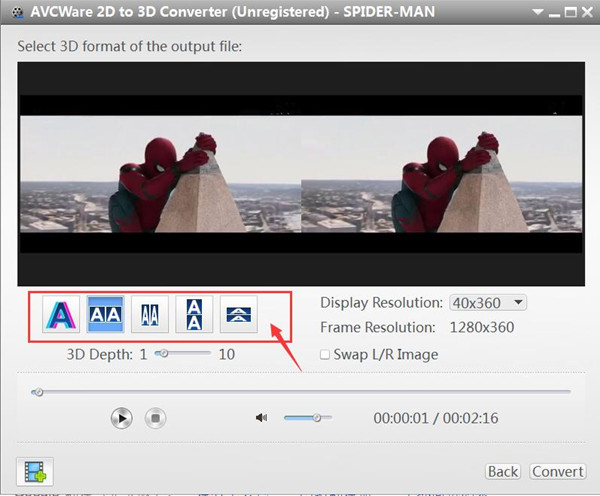 After that, you are free to adjust the 3D depth of the video.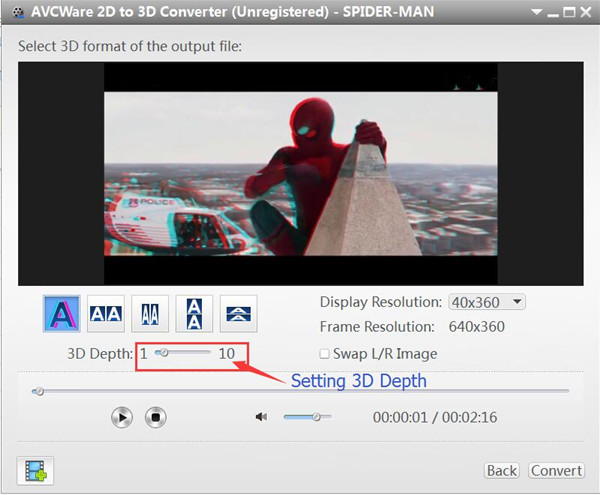 Once done, you should choose an output format. You can easily convert 2D videos to 3D MP4 or other formats like WMV, MKV, AVI, MOV, FLV, etc. And you can set file parameters such as video and audio codecs, video size, bit rate, frame rate, audio channel and more by clicking the Settings button.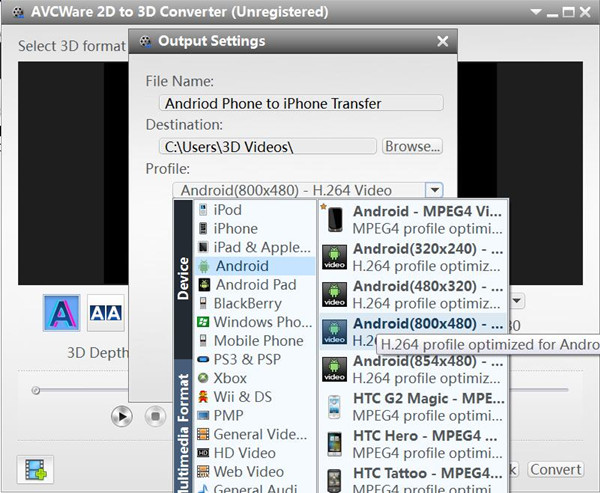 Step 3Start Converting 2D Videos to 3D
Click the "Convert" button to begin ripping 2D movies to 3D video files. When the conversion is done, you are able to enjoy your 3D movies on a 3D device at home.